Hemodialysis Blood Administration Set
The transfusion set shall be provided with protective caps to maintain sterility of the internal parts of the set until the set is used. The air-inlet device shall be provided with a protective cap over the closure-piercing device of needle.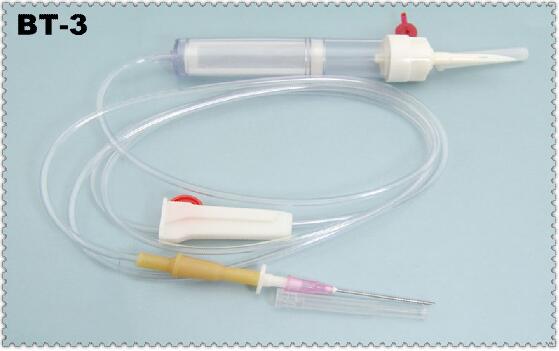 1 The blood transfusion structure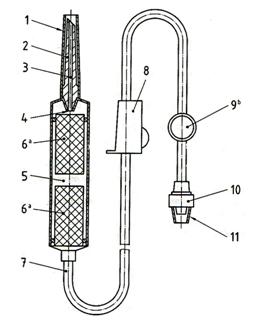 Key
1.protective cap of the closure-piercing device
2.closure-piercing device
3.fluid channel
4.drip tube
5.drip chamber
6.fitter for blood and blood components
7.tubing
8.flow regulator
9.injection site
10.male conical fitting
11.protective cap of the male conical fitting a Indicates alternative locations of the filter for blood and
blood components. Other designs are acceptable if the same safety are ensured.
b Injection site is optional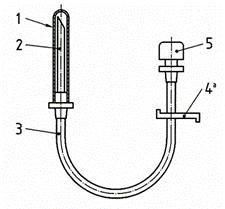 Key
1.protective cap
2.closure-piercing device or needle
3.tubing
4.clamp
5.air-inlet with air filter
Other designs are acceptable if the same safety aspects are ensured
2 Specifacion
1)With air-filter
2)Big flexible and clear drip chamber
3)With blood filter and roller clamp
4) Non-toxic,Non-Pyrogenic fluid path
5)Luer slip or luer lock adapter
6)Latex or latex free [Y" injection site
7)For Gravity Use and PVC tube 1350-1500mm
8)Protective cap:Made of PP or PE
9)Air inlet cap :Made of red,white or blue PP
10) Flow regulator:Made of PP or ABS, normal shape, small size or Horned shape, large size.
3 The instructions on medical application
1)Read `direction of use` carefully before use
2)Do not touch the needle
3)This set is only for single use
4)Do not store under direct sunlight or extreme temperatures and keep dry
5)Do not use if package is damaged or open
6)Do not use after expiry date
7)Discard after use
8)Never use if any part of the set is disconnected, or if protective cap is detached or loose